Ken Tashian
August 11, 1946 - May 18, 2021
Novato - Tashian, Kenneth, 74, of Novato, California, passed peacefully in his sleep on May 19, 2021. Born August 11, 1946, in Washington Heights, New York City to Warren "Pops" Tashian and Theresa Brennan Tashian. Ken lived in Washington Heights until he was 5 years old when the family moved to Paramus, New Jersey.
Ken told extraordinary and seemingly exaggerated stories of his life's adventures that were always verified to be just as he told them. His days at Paramus High School were dear to him. He was on the football and wrestling teams, and was one of the top high school wrestlers in the state. He fondly remembered his first car, a 1947 Plymouth, but he truly enjoyed his Corvettes. When frequenting a restaurant or bar with Ken, he always made sure the table/bar was dry and that all drinks had a coaster, something he attributed to his first job at a soda fountain. Ken served in the United States Coast Guard which had its challenges as he never quite got over getting seasick but while on shore he took every opportunity to make it the most fun and rewarding experience it could be until his honorable discharge.
Ken went to work for New Jersey Bell where he was eager to learn anything and everything about telephone systems, volunteering for all jobs. Through New Jersey Bell, he was offered the opportunity to transfer to Northern California and ended up in Marin County. At the Bell office in San Rafael, he worked on NIKE missile sites throughout the county. Ken's training and experience with telephone systems led him into information technology for several companies, including Fireman's Fund, California Blue Shield, Kaiser Permanente and Ocular Sciences as Director of Global Operations. Ken went on to work for the City and County of San Francisco's Department of Technology and the Port of San Francisco. At the Port for the last ten years he was the Homeland Security Program Manager tasked with keeping San Francisco's waterfront safe.
Ken was curious and a lifelong learner. He attended Sonoma State University, and the College of Marin, graduating with honors. When not working or studying, Ken spent time with his wide assortment of old and new friends going on adventures and creating memories, always with laughter and often with his dog(s) at his side. He was extremely competitive and played many sports. His optimism for the Jets and Mets never waned. He was a skilled diver, sailor, pilot, and designated driver. He shared many wild memories of his time spent going to musical events and traveling with his rock and roll family of friends. He looked forward to his annual trip with childhood friends from Jersey or just a weekend ride on one of his Harleys. His fondest adventure was meeting and falling in love with Tory Smith. On September 6, 2008, in New Jersey, they had a spectacular wedding, after which they enjoyed many years filled with love and laughter.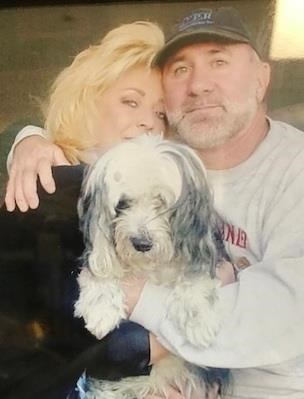 Ken had the natural ability to enter any social function not knowing anybody and walk out knowing something about everybody. Throughout his life, everywhere he went he developed endearing and lasting friendships. He never forgot these friends and would call them unexpectantly, picking up where they left off like they had spoken the day before. Ken was unique and extraordinary this way. He cared deeply and put every effort into tailoring his time spent with each person to be special. Ken's dad, a B-17 turret gunner in WWII, lived to be 100 years old. Ken hoped he had 'Pops' genes so he could give it a run. And with his youthful energy and physical condition everyone who knew him thought he would make it. He didn't make 100 but he lived life to the fullest.
Ken was predeceased by his father, mother, brother Paul, and several dogs. He is survived by his beloved wife Tory Tashian, nephews Paul (Jr) and David Tashian of New Jersey, his dog Cosmo, and many dear friends.
The location and date of a celebration of life will be announced soon. Private services are being planned, and at Ken's request his ashes will be placed at family sites in New Jersey, New Hampshire, and California.
In lieu of flowers, donations may be made to:
Paramus High School 'Pops Tashian Memorial Fund'
Attention: Principal
Paramus High School
99 E. Century Road
Paramus, NJ 07652